ferroalloy manufacturers wanhua metal National Day holiday arrangements
Time: 09 30, 2019      Author :wanhua
This year marks the 70th anniversary of the founding of the People October 1st is the National Day.
Over the past seven decades, China's development has not only benefited its own people enormously, but also made great contributions to world peace and prosperity. A prosperous and stable China is in itself a huge contribution to the world and also a great boon to other countries It has always been a staunch force for world peace, global development and international order. And it is also more prosperous thanks to China's Belt and Road Initiative and its efforts for an open world economy. We are confident that it will be even better as We work with other countries to build a community with a shared future for mankind.
At the time of the 70th birthday of the motherland, Wanhua Metal wished the motherland better and better!
This year's National Day holiday is seven days.
Ferroalloy manufacturers Wanhua holiday time is as follows:
One week off from October 1 (National Day) to 7th
Also work on September 29 (Sunday) and October 12 (Saturday)
During the holiday, the factory has staff on duty. If you have any needs or have any questions about the product, you can contact us via email. Email address: sales@wanhuametal.com. Professional business manager will contact you within 24 hours!
Finally, wish you have a happy life.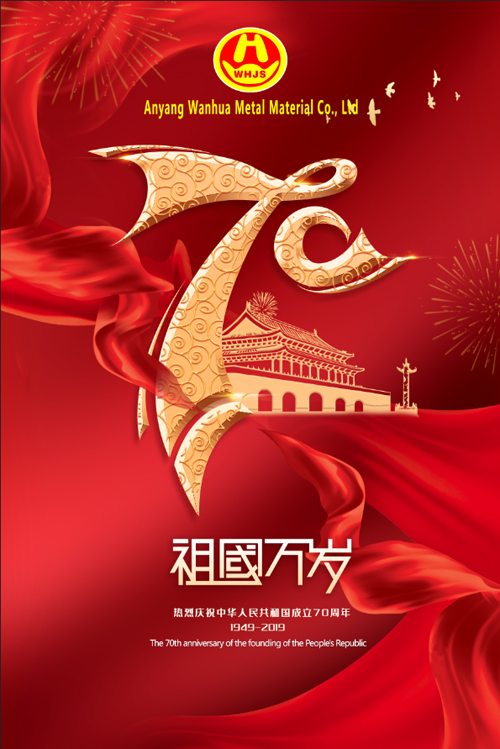 If you're interested in our products or have any questions, please kindly describe your requirement in detail. Our professional team will reply to you as soon as possible.