top quality calcium silicon supplier and manufacturer from Chinese
Time: 04 17, 2019      Author :wanhua
Calcium silicon alloy is mainly used in steelmaking and cast iron production.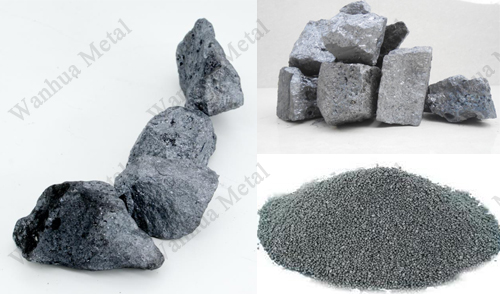 Calcium silicon mainly used as inoculant of cast iron. Silicon-calcium alloy has a strong reducing power. And is also used as a deoxidizer for high-quality steel. As a deoxidizer for steel making, SiCaBa / SiAlBaCa alloys are usually used.
We are one of the leading silicon metal suppliers in China. Offering you the best after-sale service and competitive price.
Why SiCa widely used in the steelmaking and casting?
Advantages used in the casting
In cast iron production, calcium silicon is more effective than ferrosilicon. It can improve the performance of cast iron. Calcium silicon is an effective inoculant to promote the formation of spherical graphite. It can also function as deoxidation, desulfurization, denitrification and silicon.
Advantages used in the steelmaking
Used as deoxidizer
Calcium and silicon have a high affinity for oxygen. Moreover, the deoxidation product is easy to float and is easy to discharge.
Therefore, the liquid deoxidized using calcium and silicon alloy is relatively pure. Calcium-silicon alloys are often used as deoxidizers in the refining of high quality steels and special alloys.
Used as desulfurizer
Calcium and sulfur in calcium-calcium alloy to form a stable compound CaS. And CaS insoluble in the molten steel. So, calcium and silicon alloy deoxidation, there are desulfurization.
Calcium silicon manufacturer /supplier
Wanhua Metal is both a producer and a supplier of silicon calcium.
1. Passed ISO certification to ensure strict control of products from production to packaging.
2. Twenty years of production experience guarantees that every product meets your needs.
3. Factory direct sales, no middlemen, the price is cheaper.
Sample & payment:
We can provide a free sample of 1 kg so that you can better understand our products.
You could place a trial order for test the quality of the goods. Our minimum order quantity if 20 tons. If the trial order meet your satisfaction, you can place an official order.
We usually accept T/T and L/C payment. And we will deliver the goods within 7-14 working days after receipt of the advance payment/ Letter of credit.
Leading time & shipment:
1. Shipment within 5 working days after production.
If the stock is adequate, Shipment 7 to 10 days after signing the contract. (ship to Korea&Japan about two days. Ship to Brazil(North America) about 35 days.)
2. Prompt producing after order, with 20tons capability/a day.
3. Standard 1mt bag.
4. According to customer's request to order different specifications.
Welcome to buy the calcium silicon with us. The customized service and the wholesale service are also welcome!
If you're interested in our products or have any questions, please kindly describe your requirement in detail. Our professional team will reply to you as soon as possible.