low carbon ferrochrome
Time: 08 14, 2019      Author :wanhua
What is low carbon ferrochrome?
Ferrochromium has low carbon ferrochrome and high carbon ferrochrome depending on its carbon content.
Low carbon ferrochrome is a ferrochrome with a carbon content below 0.25. Its raw materials are metallurgical materials such as silicon chromium alloy, chromite and lime. It is smelted by various smelting methods.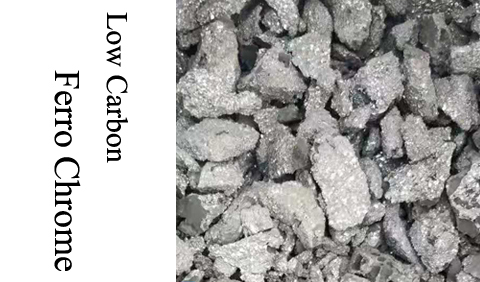 LC FeCr (Low Carbon Ferrochrome) can be used to regulate the ratio of Chromium in steel production without Carbon and other unwanted ingredients.
Due to high quality it is a reliable and economical alternative instead of metallic Chromium in Superalloy production
Production method of low carbon ferrochrome
In general, ferrochrome will produce low-carbon ferrochrome by high carbon ferrochrome refining method and electric silicon thermal method. The electric silicon thermal method is to reduce the chromium and iron oxides in the silicon in the silicon chromium alloy under the condition that the basic slag is formed in the circuit, thereby preparing the medium and low carbon ferrochrome.
The high carbon ferrochrome refining process is to refine high carbon ferrochrome with chrome ore. It is also possible to use oxygen to refine low carbon ferrochrome.
If chrome ore is used to refine low carbon ferrochrome, the slag in the refining furnace has a large viscosity and a high melting point. During the smelting process, the temperature must be very high. Therefore, the power consumption is high, the life of the lining is short, and the carbon content is not easily lowered.
If the use of oxygen to blow low-carbon ferrochrome has great advantages, there are many advantages, such as high productivity, low production cost, high recovery rate, etc.
Features of low carbon ferro chrome
Provides for wide usage in foundry and steel industry applications
Made available with optimum chemical and physical properties
Finding usage during steel production for correcting chrome percentage without causing random variation in carbon/trace element percentage
Also suitable as low cost alternative to metallic chrome for use in super alloys as well as other special melting applications
About ferrochrome
In 1821, P. Berthier heated a mixture of charcoal, chromium oxide and iron oxide in a crucible to produce ferrochrome. This method has been used until 1857 when E.C. Fremy used Tasmania iron-chromium ore to smelt in a blast furnace to obtain Tasmanian pig iron containing 7% to 8% Cr.
Between 1870 and 1880, ferrochrome produced in blast furnaces contained 30% to 40% Cr and 10% to 20% C. H. Moissan has done a lot of work on smelting ferroalloys in electric furnaces. In 1893, he published a report on the reduction of chrome ore in an electric furnace to produce high-carbon ferrochrome containing 67% to 71% Cr and 4% to 6% C. It is a major advancement to replace high-carbon ferrochrome with electric furnaces instead of blast furnaces.
In 1886, E.G. Odelstjerna described the use of electric furnaces in Sweden to produce 70% Cr high-carbon ferrochrome.
From 1906 to 1940, F.M.Becket and his collaborators carried out the process of producing low-carbon ferrochrome from silicon-reduced chrome ore. Tested and produced in a 500 kW single-phase two-electrode furnace (with a furnace output of 400 kg) to a 12,000 kW three-phase electric furnace (10 t of furnace output) to meet the needs of producing stainless steel.
Around 1920, the Swedish Trollehtan Ferroalloy Plant developed a three-step process for the production of low-carbon ferrochrome. That is, the electric silicon thermal method, also known as the Swedish method.
In 1939, R. Perrin obtained a patent for the production of low-carbon ferrochrome by reacting liquid ferrochrome with a chrome-lime melt. Known as the Polen method, also known as the heat exchange method. This method has been continuously improved and has become the main method for producing low-carbon ferrochrome.
In 1949, H. Erasmus obtained a patent for the production of 0.01% low carbon ferrochrome by vacuum solid state decarburization. The Sim-plex Ferrochrome, called Simplicex, is produced at the United Carbide Corporation's Ma-rietta plant.
Low carbon ferrochrome manufacturer and supplier
Wanhua is a professional ferroalloy manufacturer and supplier. It has been focused on the metallurgical industry for 20 years.
With its advanced management philosophy and the principle of good faith management, Wanhua Metal has passed ISO quality management system certification and is committed to the production and sales of high quality products.
A: Do you provide sample?
B:Yes, but the cost of freight is paid by you.
---
A: Do you have the product certificate?
B: Yes , we have ISO9001 and SGS. If you need , we can send it to you.
---
A: Are you a factory?
B: Yes, we have three factories.
---
A: What is your main products?
B: Our main products is, fesi, fecr, casi cored wire, silicon metal, silicon briquette etc.
---
A: What's your MOQ?
B: Our MOQ is 20 ton.
---
A: What about your price?
B:We are factory, so our price is very low.
About low carbon ferrochrome, we promise the quality is very good. About us, we promise factory direct sale. There no middleman. We have rich experience, we are factory. So , if you have any need , please contact us !
If you're interested in our products or have any questions, please kindly describe your requirement in detail. Our professional team will reply to you as soon as possible.